Ultima actualizare la data: 29 noiembrie 2022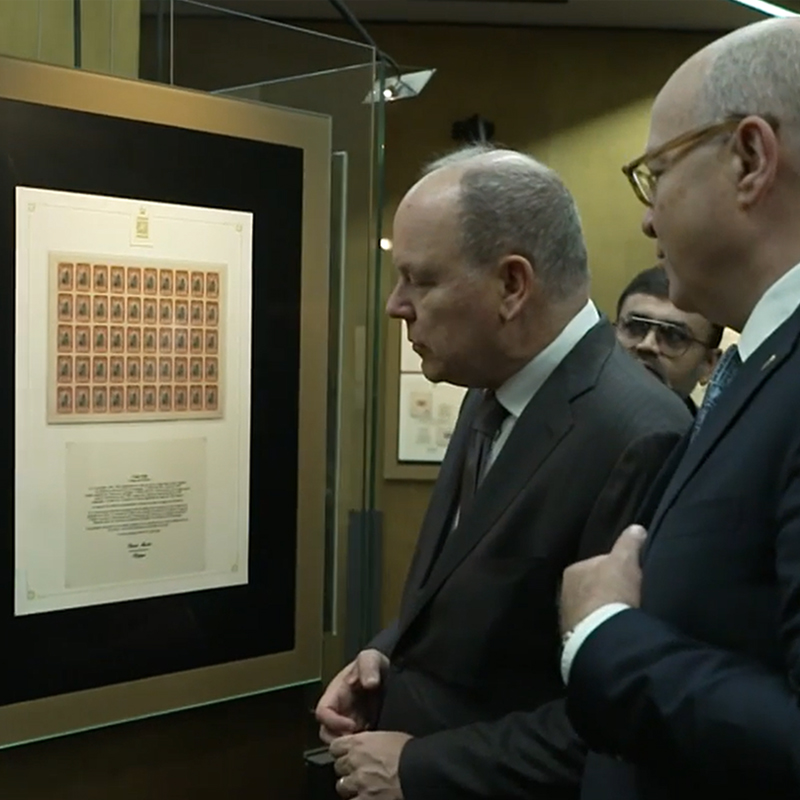 Photo: H.S.H. Prince Albert II (left) and Patrick Maselis RDP, President Club de Monte-Carlo
[photo credit: Monaco Info]
---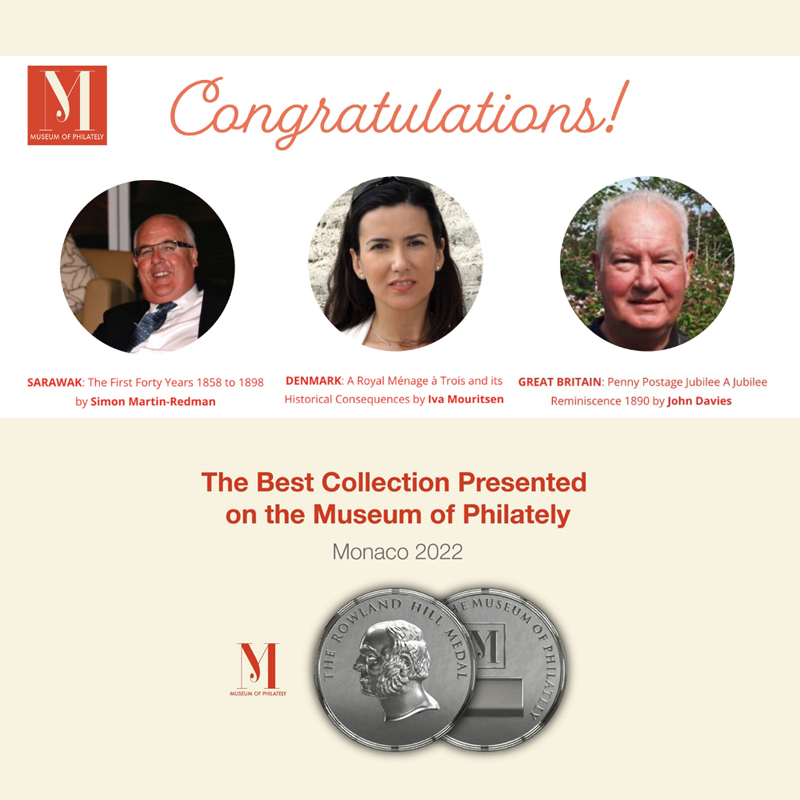 The Rowland Hill Medal Winners
We copied the announcement from the Museum of Philately website:
Museum of Philately awards the Rowland Hill Medal at the prestigious stamp show Monacophil on Friday 25th November 2022, in Monte Carlo.  As an online Museum, we celebrate great and award-winning collections that promote, educate, and inspire viewers, illustrating the wonderful diversity of what has been called many times, the greatest of hobbies. After an active campaign with almost 1000 public votes from young and old, male and female participants, The Museum of Philately is delighted to award not one but three medals. They have been presented to Iva Mouritsen, Simon Martin-Redman and John Davies at an awards ceremony in the Hôtel de Paris. These well-recognised philatelists have three very different exhibits, all of which you can enjoy reading at your leisure on the Museum.
Denmark: A Royal Ménage à Trois and its historical consequences by Iva Mouritsen:
https://www.museumofphilately.com/collection/90
Great Britain: Penny Postage Jubilee, A Jubilee Reminiscence by John Davies:
https://www.museumofphilately.com/collection/41
Sarawak: The First Forty Years 1858-1898 by Simon Martin-Redman:
https://www.museumofphilately.com/collection/89
David Feldman, commented in his speech 'Whilst none of us can see into the future, this event today provides encouragement that the philatelic landscape in future years will be healthier and more diverse than ever before. Certainly, if we continue to embrace new ways of doing things and the emerging technologies, we will enjoy a bright future, once again, exactly what the Museum of Philately is all about.'
---
Vaccari Magazine sadly ends with its No. 68
The shocking news of the closure of Vaccari Magazine was announced on 23rd November on the Vaccari News website. 
The Vaccari Press Release issued ahead of the release of the journal's final number (No. 68) includes the "Editorial" signed this time by Valeria Vaccari, the late Paolo's daughter. The first few lines of the "Editorial" explain why:
I never wanted to write and sign this editorial in my dad's place.
A long story, that of the Magazine, which could have continued but, by his will, ends here.
I thank personally and also on behalf of my dad (I know he would have done so) all of our writers, many of whom have collaborated with the magazine since the first issue in 1989; all the subscribers and readers who have been following and supporting us.
I thank those who believed in this forward-looking project and published their own advertisements.
I thank all the editorial staff, Francesca who started and Claudia who continued, the makers-up Katia and then Federica. And the typography that accompanied us from the beginning.
A great adventure dad, which I will miss a lot, especially because that was with you.
In this issue some pages are dedicated to him. 

In No. 68, Valeria Vaccari dedicated three pages to her father: Dedicato a papà
Paolo Vaccari passed away on 10th October. You can read the announcement here.
---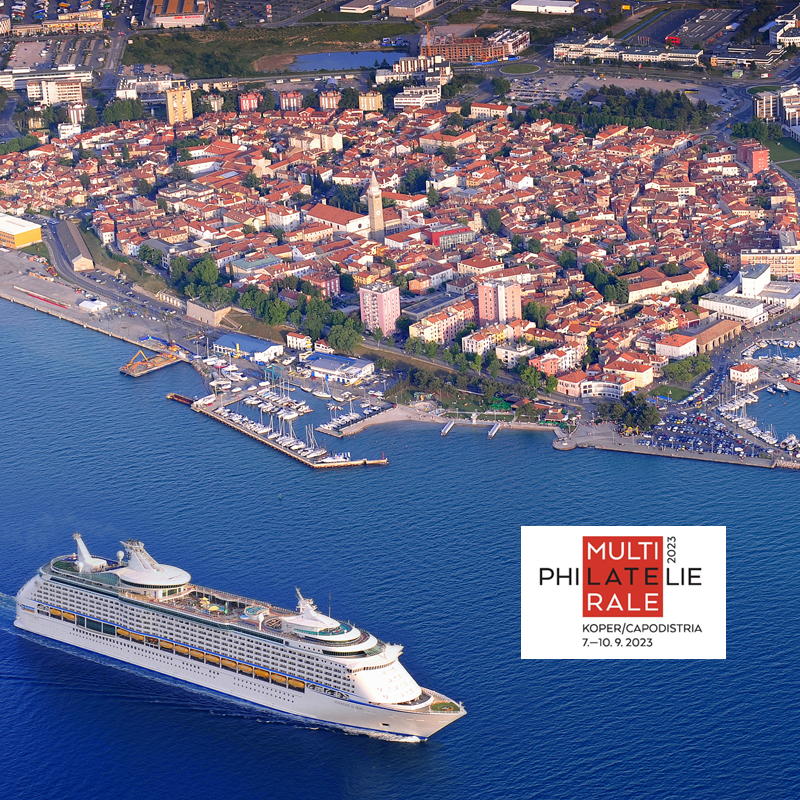 MULTILATERALE 2023 to take place next September
in Koper, Slovenia
The Slovenian Federation confirmed that the seven-nations Multilaterale exhibition will take place in the city of Koper (former Italian name Capodistria), in Slovenia, from 7 to 10 September 2023. The exhibition has been granted FEPA Recognition. The seven participating nations are Austria, Germany, Liechtenstein, Luxembourg, the Netherlands, Switzerland, and Slovenia. Exhibition size is expected to be around 600-800 frames.
The Multilaterale exhibitions take place every two years. Last Multilaterale took place in St. Polten, Austria, 24-26 September 2021.
Prospective exhibitors are asked to get in contact with their National Federations. Entry forms deadline: 31 December 2022.
---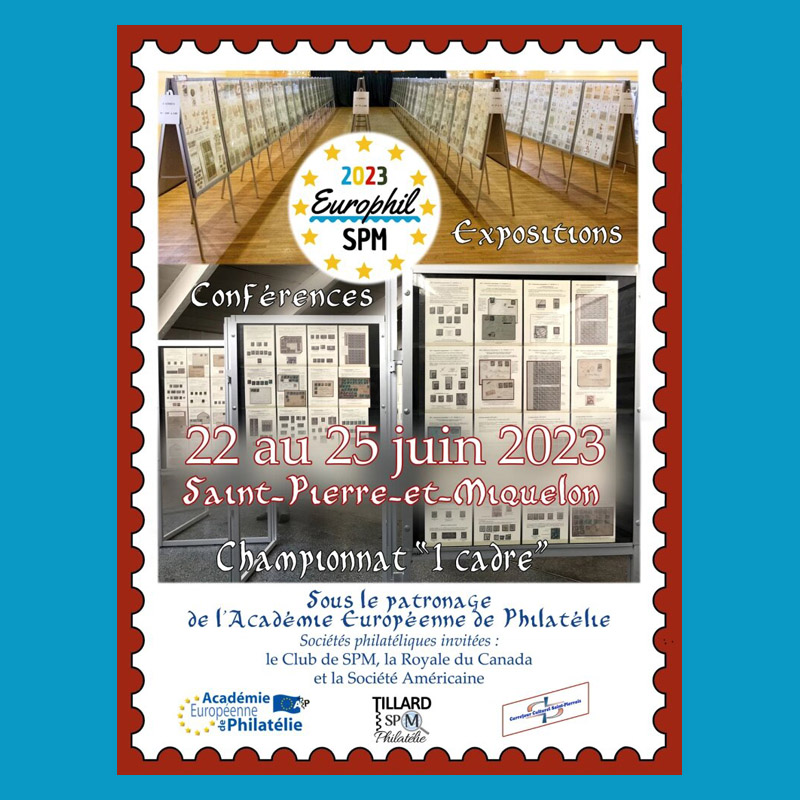 EUROPHIL SPM 2023 in Saint Pierre and Miquelon
EUROPHIL SPM 2023 is organised by the European Academy of Philately (AEP) on Saint Pierre of Saint Pierre and Miquelon next June. The event is a competitive exhibition of one-frame exhibits, under AEP patronage and it will be judged according to the GREVs. It is open to the members of the AEP, the American Philatelic Society and the Royal Philatelic Society of Canada.
Further details, entry form and IREX are available here: https://tillard-spm-philatelie.fr/europhil-spm-2023
Entry forms deadline: 28 February 2023.
---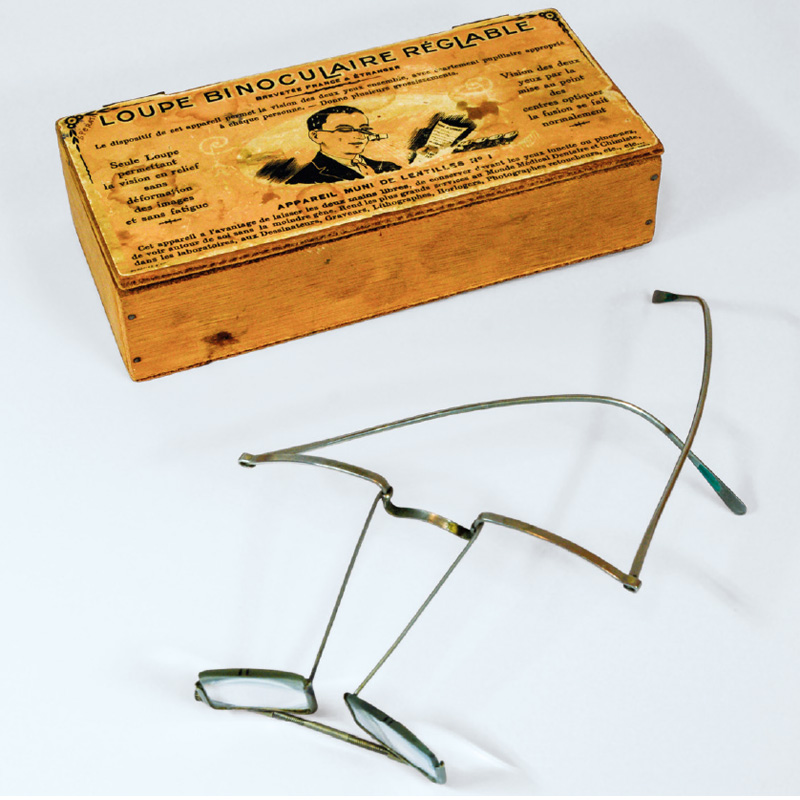 A remarkable catalogue on Jean de Sperati
On 7th December David Feldman International Auctioneers will hold the auction of "The 'Art of Sperati' Collection". According to the auctioneers, the collection includes 136 lots of different levels of complexity and richness, many of which comprise previously unrecorded material , as well as unknown working reproductions.
The 165-page catalogue comprises first class reference philatelic material documented with superb illustrations. It is freely available on line and can be downloaded from here (55MB):
https://www.fepanews.com/wp-content/uploads/2022/11/Catalogue_stamp_Auction_Sperati_Dec2022.pdf
---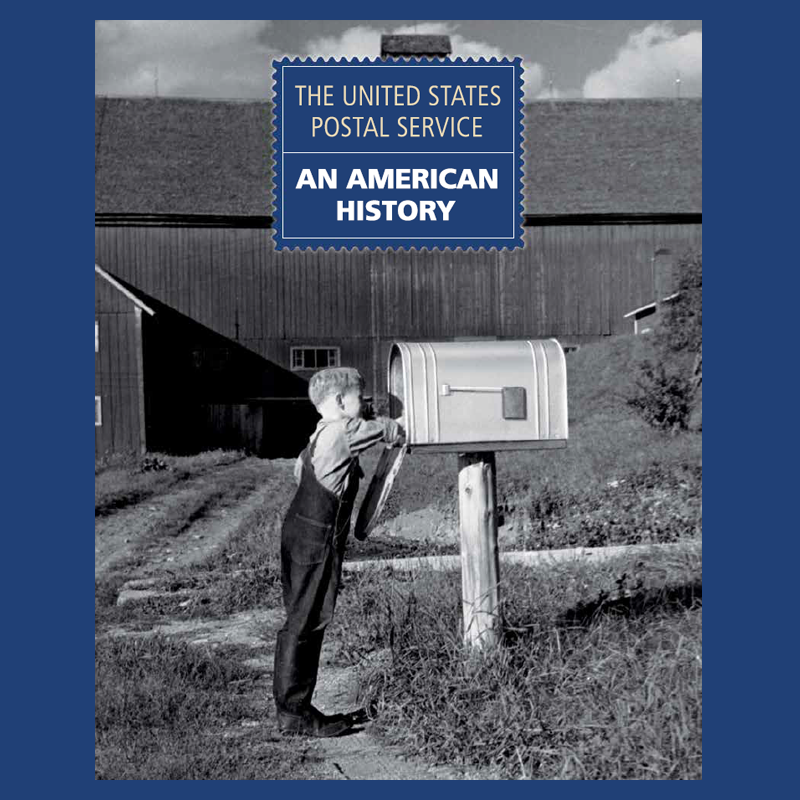 An American History by the USPS
On 15th November we read in linns.com that: This past September, the United States Postal Service published a new edition of its "Publication 100," The United States Postal Service: An American History. The full-color, 156-page softcover book is available both in print and online.
The online version is free of charge and can be downloaded from here: https://www.fepanews.com/wp-content/uploads/2022/11/pub100.pdf

The price of the paper version is $15.99 and covers the cost of printing, shipping and handling. You can order it at https://store.usps.com/store and use product no. 843496.
---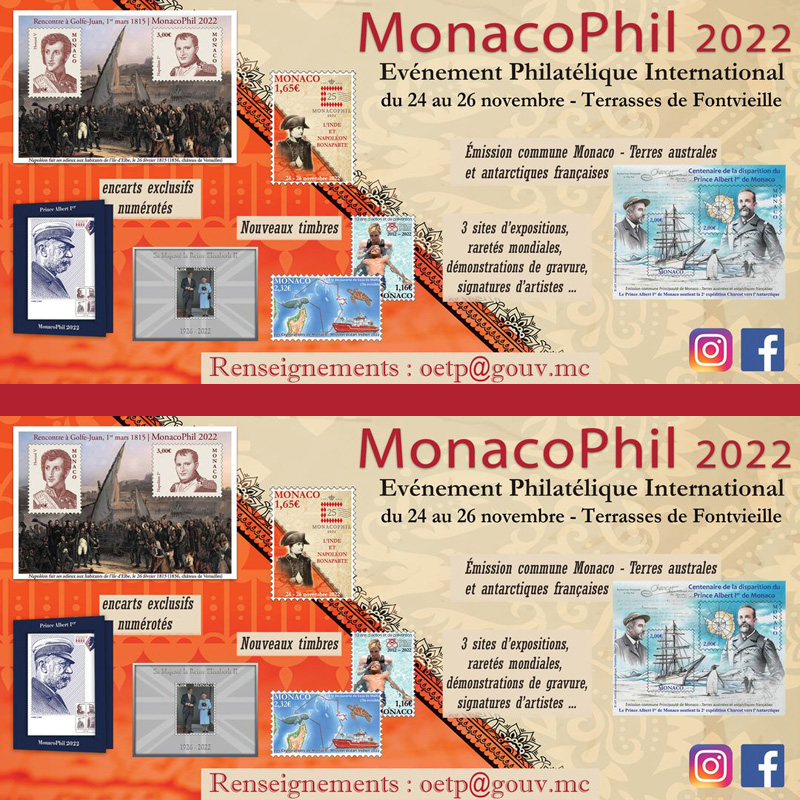 Napoleon Bonaparte, India and 100 iconic items
in MONACOPHIL 2022
The Club de Monte-Carlo and the OETP (Office Monégasque des Emissions de Timbres-Poste) hosted an exceptional philatelic event from 23 to 26 November 2022. An exhibition of 100 iconic stamps and documents was held at the Musée des Timbres et des Monnaies with items from 100 world famous collections belonging to
His Serene Highness Prince Albert II of Monaco
Her late Majesty Queen Elizabeth II
10 postal museums
Members of the Club de Monte-Carlo
In the Espace Léo Ferré, there was a commercial section with 80 stands operated by postal administrations and well-known international stamp dealers. The Monaco Top Cars Collection hosted two exhibitions. The first was devoted to Napoleon Bonaparte and the second to India. The OETP made its own special contribution by issuing MonacoPhil commemorative stamps.
The full programme, detailed lists of exhibitors and commercial stands and much more are still on the exhibition website: https://www.monacophil.eu
---